Press Reviews for Maxim Lando
"[Lang Lang] and Maxim intertwined arms and moved as one otherworldly creature, almost unaware of the dance-like quality of the dreamy trance they had put themselves into. It was like watching musical ecstasy, the synergy and magic of the motion captivated the audience from start to the very end of George Gershwin's masterpiece, "Rhapsody in Blue." One for the ages, indeed." 
Natalie Bencivenga  (performance with Pittsburgh Symphony) – Pittsburgh Post Gazette 
"This worked shockingly well. In fact, the three pianists—Lang, Corea, and young Mr. Lando—gave a performance of the Rhapsody for the ages…[Lando] nearly exploded with propulsive energy, particularly as he played a staccato rhumba-like accompaniment to one of Corea's more extended flights of fancy… Overall, the three highly individual artists achieved an astounding musical synergy."
Joshua Rosenblum (Opening Night Gala with Philadelphia Orchestra at Carnegie Hall) – ZealNYC
"There is something in the nature of music that raises its chosen ones to the heights of thought and feeling. And youth turns out to be deceptive when Maxim Lando is soloist [for] the Concerto No.3 for pianoforte and orchestra [by] Sergei Rachmaninov"
Marina Aleksinskaya (TVKultura performance with Tchaikovsky Symphony Orchestra) – Russia Culture
"If you shut your eyes, you might think you were in the first row of Carnegie and Vladimir Horowitz was performing on stage. The piano is played with a seemingly facile touch, the music delicate even when it is dynamic. And someone who is thoroughly musical is at the keyboard. Maxim Lando has a very old musical soul… an ever so clear approach to the keyboard, and the molding and shaping of phrases straight from the musical angels."
Susan Hall, Berkshire Fine Arts
"A recent injury to Lang's left hand, however, necessitated calling in reinforcements, in the person of Maxim Lando, a 14-year-old alumnus of the Lang Lang International Music Foundation who already has considerable international experience playing some of the most challenging works in the piano repertoire. Seated at Lang's left, young Lando contributed not just Gershwin's original left-hand part but some witty and stylish two-handed solos, and wasn't shy about reaching over his mentor's right hand to make a point in the treble. The applause for the two superstars and the brave young virtuoso was ecstatic."
David Wright (Opening Night Gala concert with Philadelphia Orchestra at Carnegie Hall) – New York Classical Review 
"Next in the program was "Rhapsody in the style of blues" of the famous American composer of the 1920s George Gershwin. The audience had the opportunity to hear the perfect mixture of jazz and academic music. Solo in the orchestra 13-year-old pianist from the US Maxim Lando. At a young age, this musician has already won many international competitions. Maxim played the work with such speed and excitement that it seemed as if his fingers merged with the keys. The rabid energy of the young pianist was transferred to the audience."
Voxpopuli.kz (performance with Kazakh State Philharmonic) – Kazakhstan
"Mr. Lando boasts technical skill and exuberance"
Anthony Tommassini (Opening Night Gala at Carnegie Hall) – New York Times 
Before Lang performed, Maxim Lando, a 13-year-old pianist from his foundation, played "Medtner Fairy Tales" and "Variations on a Theme From Carmen"  – "I'm scared," Lang said. "I couldn't play that way when I was 13." 
Interview with Lang Lang  – published in WWD Magazine
"His interpretation of Chopin's Ballade No. 1 in G Minor, Op. 23 was filled with emotion, and he was simply brilliant during Horowitz's Variations on a Theme from Carmen."
Mike Telin, Cleveland Classical
"The New Yorker Maxim Lando is a pianist who is astonishing when one hears him for the first time. He has a technical and musical maturity that leaves you a bit speechless. Because one asks oneself when he could have learned all this. It reminds everyone of Kit Armstrong, who was not much older when he came to Kissinger PianoOlymp. But Maxim Lando is now already better.
His parents are both music teachers. But the real driving force is in himself. Not just because he always smiles slightly when it is most difficult, but because he takes pleasure in technical challenges. Liszt's "Leggierezza"-Etüde and Hungarian Rhapsody no. 12 or Bizet's "Carmen" variations" in the infernal version of Horowitz he plays as if it were nothing and nevertheless makes music out of it.
But the most sensational thing about Maxim Lando is his mature musical understanding. The way he plays Beethoven's Sonata Op 31/1, with their finesse and their wit in the outer movements and personal expression in the Adagio – no piano teacher taught him; that comes from himself. Or the way he brings out the beauty in Prokofiev's Sonata No. 2, because he is not hampered by awkwardness– it demonstrates a great capacity for interpretation. Even Tchaikovsky's rather plain C minor Dumka one heard spellbound. And one was almost grateful that Chopin's G minor Ballade dynamics came somewhat black or white, that a few nuances were missing. They are yet to come."
Thomas Ahnert, Main Post Regional – Germany
"This exceeds the wildest expectations: the audience including foreign guests reacted absolutely thrilled and speechless. Eight highly talented pianists were selected to benefit from master classes by renowned pianists in an international casting of more than 400 applicants with the support of Kreismusikschule and the Cultural Office represented by Wolfram Schmitt Leonardy, professor at the University of Music and Performing Arts Munich and coach in the Junior Music Camps of the Lang-Lang Foundation.
All eight pianists took the audience on an expedition full of glowing and most beautiful colors in known and unknown regions of the "Piano cosmos'". Among them, Maxim Lando from New York, who has already performed 15 times at Carnegie Hall. The boy has to be seen! It is hard to describe how this 13-year-old boy subordinated the piano with the dedication and virtuosity.
He was as brilliant as his colleagues and chose the most difficult literature: the "Fairy Tale" by Nikolai Medtner and the fourth movement of Sergei Prokofiev's Sonata No. 2 and topped it with the "Carmen Fantasy" by Vladimir Horowitz as encore. Genius."
Jutta Root, Saar Zeitung – Germany

"Next concert captured. Was "Rhapsody in Blue" by George Gershwin, where the piano part improvised prodigy from the US Maxim Lando…. Maxim Lando improvised, and it was good improvisation. Looking at him, I remembered one socio-anthropological study and took up of representatives of different professions and made a detailed full description of their appearance, the shape of the nose and ears to heels. Identify patterns, each professional group has common features, pilots have a certain appearance, mathematics too similar to each other. Pianist Maxim Lando like something and Luke Debarga, and the young Andrei Gavrilov and Vladimir Horowitz, and local wunderkind Rakhat-Bi Abdysagina. It is amazing. The theory works."
yvision.kz/post – Kazakhstan
"If anything Prokofiev's Piano Concerto No. 3 (premiered in 1921 across the street from Millennium Park by the Chicago Symphony Orchestra and conductor Frederick Stock) is an even bigger challenge to conquer than the Liszt, and the three soloists didn't disappoint. It's hard to imagine any 12 year old being up to the formidable challenges of the first movement of this concerto, but 12 year old Juilliard Pre-College student Maxim Lando launched into the opening bars with panache, excelling in the fiendishly difficult perpetual motion passages."
Michael Cameron, Chicago Music Report
"I just want to express my sincere thanks to Twelve-year-virtuoso Maxim Lando – for the miraculous transformation on stage – from the shy clumsy teenager – in a confident mature genius, for which there is nothing in the world except for the piano, which is lovingly stroking the keys, creating sounds incredible passion and tenderness."
yvision.kz/post – Kazakhstan
"Twelve year old US pianist Maxim Lando opened the program of the first festival of classical music in Almaty FORTE MUSIC FEST. Music Forum, bringing together 12 international artists from four countries in the world, ended in the southern capital at the weekend.
Opening the program FORTE MUSIC FEST, Lando played complex pieces from Robert Schumann's "Carnaval". His expressive and perfect style of playing caused a standing ovation not only from Almaty judges of classical music, but also from talented pianist colleagues at the festival. Among them were real virtuosos and the recognized masters of performing arts Julietta Vardanyan, Dmitri Novgorodsky, Vesna Podrug."
Anna Darmodehina, News Service Artparovoz – Kazakhstan
"Schumann's Carnaval ("Masked Ball") — 21 little pieces that encode references to Carnaval characters and to his friends — is a hefty assignment for a young player, and Maxim Lando deserves a big pat on the back for his remarkably lucid traversal of its many moods and textures. His bravura opening statement led to a cheerful waltz and subsequent movements that were in turn piquant, lyrical, playful and lively. Varying his touch to suit the moment, he produced a variety of colorful, evocative images as the piece unfolded.
No pianist gets through Carnaval unscathed, but Maxim Lando emerged at the end with fewer abrasions and contusions than many performers twice or three times his age. He was brave to take it on, and his spirit burned bright straight through to the end."
Daniel Hathaway, Cleveland Classical
Articles & Interviews
Interview on Russian TV Kultura Tzar's Box Program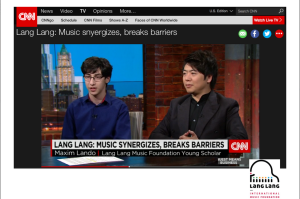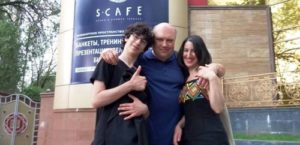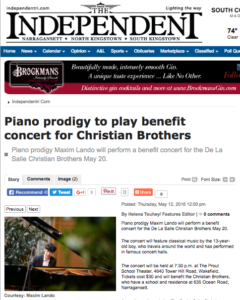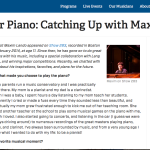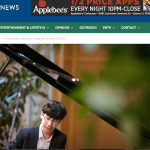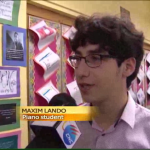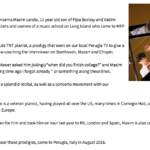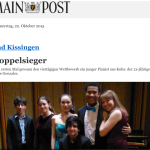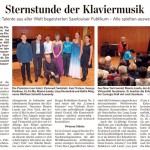 Click to read the translation to English