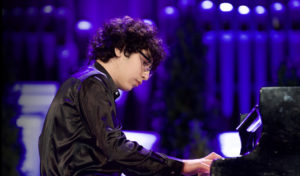 American pianist Maxim Lando has been described by Berkshire Fine Arts as having an "ever so clear approach to the keyboard, and the molding and shaping of phrases straight from the musical angels". Maxim's concerts and collaborations have recently brought him to the international stage, with invitations to perform spanning from across the globe.
In 2017 at the age of fourteen, Maxim performed Rachmaninoff 3rd Concerto with the Mariinsky Theater Orchestra in Saint Petersburg. The concert was featured and received rave commentary on the popular Russian TV Kultura program Tzar's Box. Maxim also had the great honor to perform at Carnegie Hall's Opening Night Gala Concert together with Lang Lang, Chick Corea, and the Philadelphia Orchestra led by Yannick Nézet-Séguin in an unprecedented three-pianist rendition of Gershwin's Rhapsody in Blue. ZealNYC described the concert as "A 'Rhapsody' for the ages," noting "the three highly individual artists achieved an astounding musical synergy." Other highlights of the yea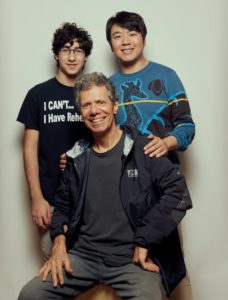 r include debut performances with Pittsburgh Symphony Orchestra and Vancouver Symphony Orchestra; a concert with Tchaikovsky Grand Symphony Orchestra under the baton of Vladimir Fedoseyev, televised nationally on TV Kultura in Moscow; a collaboration with violinist Julian Rachlin on the Stars and Rising Stars series in Munich; and a performance at the historic Grand Opening of Steinway and Sons in Beijing. Maxim has also performed with the Russian National Orchestra, Moscow Philharmonic Orchestra, Kazakh State Philharmonic, and will make debut performances with the Toronto Symphony and Israel Philharmonic Orchestra in early 2018.
Maxim's recent solo and chamber music concerts include notable venues and festivals such as the National Center for Performing Arts in Beijing, Kissinger Sommer in Germany, Ravinia Festival in Chicago, Louis Vuitton Foundation in Paris, Dinard International Music Festival in France, Jupiter Symphony Chamber Players in New York, and Jay Pritzker Pavilion at Chicago's Millennium Park. A frequent guest artist in Russia, Maxim has performed at the Tchaikovsky Concert Hall, Bolshoi Theater, VDNH Green Theater, Moscow International House of Music, Mariinsky Theater Concert Hall, and the Moscow State Gallery of A. Shilov.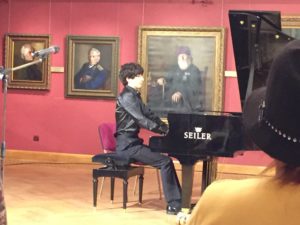 Dedicated to making classical music accessible to his own generation, Maxim has been featured performing and talking about music on CNN's Best of Quest, NPR's From The Top, BR Klassik's On Stage, Russian TV-Kultura, BBC Radio 4, WQXR, CNC News, as well as television talk shows in Italy, Armenia, and Kazakhstan. He has performed on numerous occasions together with Lang Lang, and performed a concert on one-day's-notice with violinist Alissa Margulis at Music Fest Perugia in Italy (filling in for pianist Ilana Vered). A huge fan of Sing For Hope's mission, Maxim was honored to serve as a last minute replacement for superstar Lea Salonga at the 2017 Sing For Hope Gala.
Maxim is a Gold Medal winner of the 2017 Berliner International Music Competition, and received the 2016 Audience Prize at Carnegie Hall from the prestigious Musical Olympus Foundation. In 2015, he was the first American ever awarded the Gold Prize at the International Television Contest "Nutcracker" for Young Musicians in Moscow, Russia. He received Second Prize at the 2015 Kissinger Klavier Olymp in Germany, and in 2014 won the Juilliard Pre-College Concerto Competition.
Maxim is an Artemisia Akademie Fellow at Yale University, an alumnus of the Lang Lang International Music Foundation, and a student of Hung-Kuan Chen and Tema Blackstone at Juilliard Pre-College.
He is extremely grateful for the scholarships and tutelage he has received from the Aspen Music Festival, Oxford Piano Festival, Music Fest Perugia, masterclass workshops of Wolfram Schmitt-Leonardy, Musical Olympus Foundation, Lang Lang International Music Foundation, and Juilliard Pre-College.