Posted by
Maxim Lando
, on
Nov
01
,
2017
This was a crazy fun experience for me! What a unbelievable honor to make my Philadelphia Orchestra debut at Carnegie Hall's Opening Night Gala together with Lang Lang, jazz legend Chick Coera, and Maestro Yannick Nézet-Séguin. I had performed the Gershwin before with Lang Lang, but I had no idea what to expect when I was told the jazz legend Chick Corea would be joining us for an unprecedented three-pianist rendition of Rhapsody in Blue. What an incredible experience working with not one, but two musical giants – and then later with a third as Maestro Nézet-Séguin and the Philadelphia Orchestra joined in! Every rehearsal with Chick was completely different – we explored new ideas every session, and new musical sounds filled the air. This level of musical spontaneity, all of it based on a legacy of musical thought, was something I have never experienced before. The entire experience has left me so inspired! For me, the true meaning of music is to express our humanity. For so many reasons and on so many levels, I feel that this concert accomplished something on a very human and beautiful level – the very special combination of classical and jazz visions, finding a creative and imaginative solution for a physical injury that could happen to any one of us, the representation of three generations in our ages, the excitement of an Opening Gala at one of the most important musical halls in the entire world. I was tremendously honored to take part in such an occasion.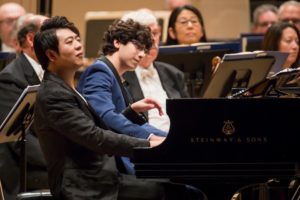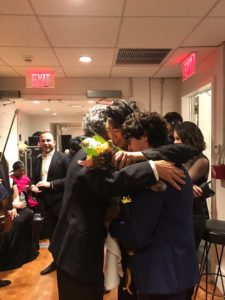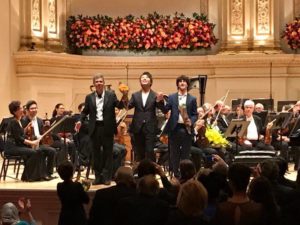 No Comments
No comments yet.
RSS feed for comments on this post.
Sorry, the comment form is closed at this time.