Posted by
Maxim Lando
, on
Sep
14
,
2017
I love every experience I have with the Jupiter Symphony Chamber Players, and this past concert was no exception! First of all I finally had the opportunity to perform with Vadim Gluzman (whose recording of Tchaikovsky violin concerto have I listened to obsessively from the time I was 6 or 7 years old). I also had a chance to play Lowell Liebermann's Fantasy on a fugue of J. S. Bach with the Jupiter winds, which I really enjoyed. I don't usually play anything solo on the Jupiter concerts (since the series is devoted to the performance of chamber music), however his concert was a 9/11 memorial and I was asked to perform the Bach/Brahms Chaconne in D Minor for left hand. All I can say is – thank you Jupiter Symphony Chamber Players! Thank you for introducing me to this incredibly moving and intimate arrangement of one of the most powerful musical works ever written!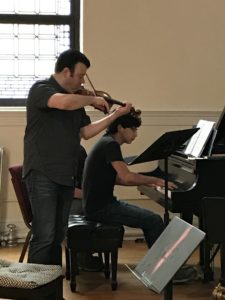 No Comments
No comments yet.
RSS feed for comments on this post.
Sorry, the comment form is closed at this time.