Posted by
Maxim Lando
, on
Sep
04
,
2017
I am incredibly thankful to Russian TV Kultura and the Musical Olympus Foundation, both of whom have presented me with opportunities and funding to perform with several of Russia's finest orchestras in many of Russia's most exciting venues. This concert was one of many celebrations this year in honor of TV Kultura's 20th season anniversary, and featured previous winners of the "Nutcracker" competition. The VDNKh, where we performed, is a gigantic park in Moscow that includes pavilions, museums, fountains, a center of oceanography, and even a rocket ship. I read somewhere that the size of VDNKh is bigger than the Principality of Monaco! In any event, the park was absolutely fantastic, gave a window to some amazing views of Russian history, and the location where I performed was really beautiful (an outdoor stage surrounded by water on three sides). It was especially wonderful and exciting to collaborate with Maestro Fedoseyev! As in every visit I have had to Moscow, the food was amazing – basically it was a fantastic experience all around.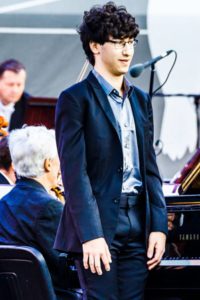 No Comments
No comments yet.
RSS feed for comments on this post.
Sorry, the comment form is closed at this time.