Posted by
Maxim Lando
, on
Jun
15
,
2017
I had a fantastic experience performing for the grand opening of Steinway Hall in Beijing, China. It was a great honor to be representing Lang Lang and his amazing International Music Foundation at such a historic event! This was the opening of Asia-Pacific region's first flagship Steinway store, and the grand scale opening ceremony included traditional Chinese dragon and lion dance performances outside the flower covered doors of the building. The piano I performed on was the stunning "Pictures at an Exhibition" Model D concert grand designed by Steinway Artist Paul Wyse, just recently unveiled in New York. You have to see this piano to believe it! This is the first art-case piano in Steinway's history to be inspired by a musical composition, and there are so many incredible ideas and levels of understanding involving Mussorgsky's "Pictures at an Exhibition" that are represented in the art work displayed throughout this piano.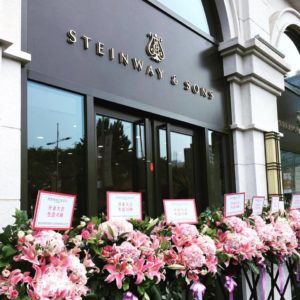 The trip was highly enjoyable, although far too short since I needed to return to New York right away for another concert. I was also very happy meeting John Paulson at the event, owner of Steinway and Sons!
Article in Conde Nest Traveler about the event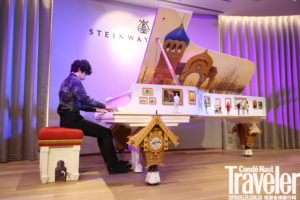 No Comments
No comments yet.
RSS feed for comments on this post.
Sorry, the comment form is closed at this time.