Posted by
Maxim Lando
, on
May
29
,
2017
I had an amazing experience performing with violinists Julian Rachlin and Robert Lakatos on the Stars and Rising Stars festival in Munich! We performed works by Franck, Debussy, Moszkowski, and the world premiere of a fantastic new piece by Antoni Parera Fons. We performed in the Technikum im Werksviertel in Munich, which was a fun venue since it is usually used for more popular music and rock groups. Playing with Julian was of course fantastic in every way – his energy is contagious and his musicianship is absolutely inspiring! I also really enjoyed playing with Robert, who along with being a beautiful violinist, is also a ping pong champion! Of course from the moment I returned to New York, I've been working on my ping pong game (which definitely needs some practice).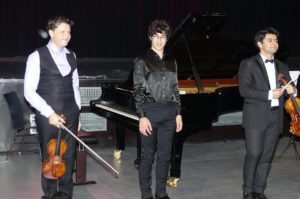 Another highlight of the trip was the opportunity to work directly with the composer Antoni Parera Fons before premiering his new piece "Words in a silent place" for violin and piano. I really loved the work (it's haunting, poetic, and the melodies are beautiful), and I am hoping to play more of his music soon!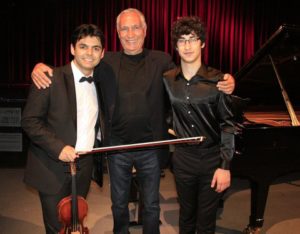 No Comments
No comments yet.
RSS feed for comments on this post.
Sorry, the comment form is closed at this time.