Posted by
Maxim Lando
, on
Jan
23
,
2017
I have to admit this was a perfect trip to Moscow! This was my third time in Moscow, my second time performing in Tchaikovsky Hall, and once again it felt magical. Every year TVKultura provides different stage and hall lighting for the each performer during the Opening and Closing Concerts of the International Television Contest "Nutcracker" for Young Musicians. This year I performed Rachmaninoff Paganini Variations with the Moscow Philharmonic Orchestra under the wonderful conductor Ayyub Guliyev, and our lighting was dark blue. I think this gave a certain mood for the performance, and the atmosphere felt very exciting.
I also had a really fun opportunity to collaborate with the amazing ten year old British violinist Leia Zhu. After a quick rehearsal, we performed together at the Moscow State Art Gallery of Shilov – a video of part of the concert is now on The Violin Channel. On one of the days, Leia and I were invited to a round table discussion with the great Andrey Maximov, together with this year's Nutcracker Competition jury members Justas Dvarionas and Nebojsa Jovan Zivkovic. The popular hour-long show aired on TVKultura, and I think it turned out to be rather interesting. When we weren't rehearsing or performing, Leia and I had a great time trying Russian food (she really liked the lard – yuck!) and throwing snowballs at each other. We also played chess, but sadly I have to confess that she easily beat me!
All in all, a GREAT trip and I hope to return to Russia soon!
NEW TO YOUTUBE | Leia Zhu – Wieniawski 'Polonaise in D', 10 Years Old [VIDEO]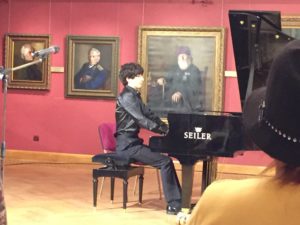 No Comments
No comments yet.
RSS feed for comments on this post.
Sorry, the comment form is closed at this time.