Posted by
Maxim Lando
, on
Jan
08
,
2017
This season I was thriled to have several opportunities to perform chamber music with the Jupiter Symphony Chamber Players, and I played with some truly amazing musicians. I performed Beethoven's "Kakadu" Variations with violinist Stefan Milenkovich and cellist David Requiro, two Mendelssohn Concert Pieces with Stanislav Chernyshev on the basset horn and Vadim Lando (my dad) on clarinet, several show pieces with violinist Dmitri Berlinsky, and Anton Rubinstein's Octet op. 9 (a reworking  of his monster Piano Concerto of  1849) with Xiao-Dong Wang as first violinist. Playing concerts with the Jupiter Symphony Chamber Players is always such a treat for me! It is an honor to play with these musicians!  The atmosphere in the hall, and with the audience, always feels very special to me.  The best part is always the music – usually works that are incredibly beautiful, but very rarely ever performed or heard.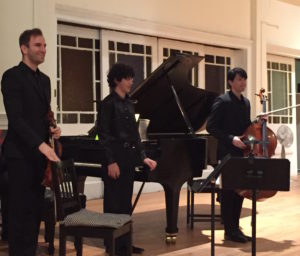 No Comments
No comments yet.
RSS feed for comments on this post.
Sorry, the comment form is closed at this time.