Posted by
Maxim Lando
, on
Aug
28
,
2016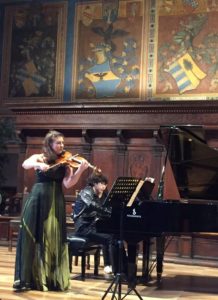 One of the highlights of my summer was performing with the great Russian violinist Alissa Margulis! This was a chance encounter, as it wasn't actually planned to happen. There was a last minute cancellation and I was asked to play a program of Ravel and Beethoven with Alissa. The only problem was that for the Ravel I had less than two days notice –and for the Beethoven Sonata I had only the morning of the concert to learn the music! It really didn't matter because I was so thrilled and honored by the opportunity to play with Alissa Margulis. She is one incredibly dynamic and exciting performer.
I also had a wonderful time in general at Music Fest Perugia. I spent time with some very good friends, listened to some great concerts, had some amazing lessons with faculty, performed a concerto with the Alicante Symphony Orchestra, performed a little more and, of course, ate a lot of my favorite truffle pasta!
It was a great festival and a wonderful experience!
No Comments
No comments yet.
RSS feed for comments on this post.
Sorry, the comment form is closed at this time.